Articles on the Iraq war



Topics




What the Rest of the World Watched on Bush's Inauguration Day

What would happen if the democratically elected government of Iraq wanted to kick out America?

US Defense Department study: US 'alienating' world's Muslims: 'They hate our policies, not our freedom'

Iraq elections

What America has done to the social net in Iraq

Iraq Sanctions, which killed 500,000 Iraqi's mostly children

If this is a war on terror, then who are the terrorists and who are the terrorized?

The Iraqi war : Counting the casualties From The Economist

Government Support for our Troops

Resistance to the War in Iraq

American Occupation targeting doctors, clerics, journalists

If America were Iraq, What would it be Like?

US and Iraq Oil Sanctions

Vietnam and Iraq
Body Counts actually done
What the Rest of the World Watched on Bush's Inauguration Day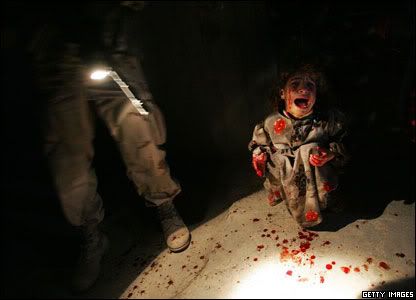 More photos of the deaths: BBC news




My question: Why didn't we ever see these photos in America?

From: National Catholic Reporter
What the Rest of the World Watched on Bush's Inauguration Day, pictures from the BBC

Dublin, on U.S. Inauguration Day, didn't seem to notice. Oh, they played a few clips that night of the American president saying, "The survival of liberty in our land increasingly depends on the success of liberty in other lands."

But that was not their lead story.

The picture on the front page of The Irish Times was a large four-color picture of a small Iraqi girl. Her little body was a coil of steel. She sat knees up, cowering, screaming madly into the dark night. Her white clothes and spread hands and small tight face were blood-spattered. The blood was the blood of her father and mother, shot through the car window in Tal Afar by American soldiers while she sat beside her parents in the car, her four brothers and sisters in the back seat.

…In Iraq, for every dead U.S. soldier, there are 14 other deaths, 93 percent of them are civilian. But those things happen in war, the story says. It's all for a greater good, we have to remember. It's all to free them. It's all being done to spread "liberty."

A Critique of the Most Misleading Statements in the Foreign Policy Segments of President Bush's 2005 State of the Union Address

Star Tribune (Minneapolis, Minnesota): Grief for British, but none for Iraqis?

What would happen if the democratically elected government of Iraq wanted to kick out America?


What would happen if the democratically elected government of Iraq wanted to kick out America?

I am no historian, but I think what happened in Iran is very illustrative of what would happen if the Iraq government tried to kick out America.

Iran in 1952 and Iraq today

Britain, fearful of Iran's plans to nationalize its oil industry, by the elected leader Mossadegh, came up with the idea for the coup in 1952 and pressed the United States to mount a joint operation to remove the prime minister. The CIA overthrew the Iranian government and installed the Shah in his place, an American puppet government.
--New York Times: The CIA in Iran


'Democracy' in Iraq: quotes showing that the Bush administration will only accept a certain kind of democracy

"If you're suggesting, how would we feel about an Iranian-type government with a few clerics running everything in the country, the answer is: That isn't going to happen," he said in an interview with The Associated Press.

--Associated Press: Rumsfeld: Iraqis Free to Form Own Gov't as Long as It is Not an Iranian-Style Theocracy

"A couple of days before the voting in Iraq, the lead story on the front page of the New York Times -- summing up the newspaper's exclusive interview with President Bush -- had reported his assertion "that he would withdraw American forces from Iraq if the new government that is elected on Sunday asked him to do so, but that he expected Iraq's first democratically elected leaders would want the troops to remain."

Logically, the president's statement should have set off warning buzzers -- along the lines of "What's wrong with this picture?" For instance: Public opinion polls in Iraq are consistently showing that most Iraqis want U.S. troops to quickly withdraw from their country. Yet Bush asserted that the Iraqi election would be democratic -- even while he expressed confidence that the resulting government would defy the desires of most Iraqi people on the matter of whether American military forces should remain.

The easy way for journalists to reconcile this contradiction is to ignore it-- a routine approach in news reporting."
--Iraq Media Coverage Too Much Stenography, Not Enough Curiosity

Independent/UK: America Is Usurping the Democratic Will in Iraq

US Defense Department study: US 'alienating' world's Muslims: 'They hate our policies, not our freedom'


The full pdf file from the US Defense Department can be found here.

What is interesting in this study, is there is no suggestion anywhere, that America should stop supporting the "Middle East tyrants" (this study's own words) that Arabs identify America so closely with.

This is a non-issue, something that of course would never be encouraged.

Excerpts of the report...

Excerpts of the study:

If there is one overarching goal (Arabs) share, it is the overthrow of what Islamists call the "apostate" regimes: the tyrannies of Egypt, Saudi Arabia, Pakistan, Jordan, and the Gulf states. They are the main target of the broader Islamist movement, as well as the actual fighter groups. The United States finds itself in the strategically awkward — and potentially dangerous — situation of being the longstanding prop and alliance partner of these authoritarian regimes. Without the U.S. these regimes could not survive. (p 43)

U.S. policies and actions are increasingly seen by the overwhelming majority of Muslims as a threat to the survival of Islam itself. Three recent polls of Muslims show an overwhelming conviction that the U.S. seeks to "dominate" and "weaken" the Muslim World. (p 43)

The Cold War emphasized:
Dissemination of information to "huddled masses yearning to be free." Today we reflexively compare Muslim "masses" to those oppressed under Soviet rule. This is a strategic mistake. There is no yearning-to-be-liberated-by-the-U.S. groundswell among Muslim societies — except to be liberated perhaps from what they see as apostate tyrannies that the U.S. so determinedly promotes and defends. (p 44)

An acceptance of authoritarian regimes as long as they were anti-communist. This could be glossed over in our message of freedom and democracy because it was the main adversary only that truly mattered. Today, however, the perception of intimate U.S. support of tyrannies in the Muslim World is perhaps the critical vulnerability in American strategy. It strongly undercuts our message, while strongly promoting that of the enemy. (p 44)

--

Muslims do not "hate our freedom," but rather, they hate our policies. The overwhelming majority voice their objections to what they see as one-sided support in favor of Israel and against Palestinian rights, and the longstanding, even increasing support for what Muslims collectively see as tyrannies, most notably Egypt, Saudi Arabia, Jordan, Pakistan, and the Gulf states. (p 48)

Data from Zogby International in July 2004, for example, show that the U.S. is viewed unfavorably by overwhelming majorities in Egypt (98 percent), Saudi Arabia (94 percent), Morocco (88 percent), and Jordan (78 percent). The war has increased mistrust of America in Europe, weakened support for the war on terrorism, and undermined U.S. credibility worldwide. Media commentary is consistent with polling data. In a State Department (INR) survey of editorials and op-eds in 72 countries, 82.5 % of commentaries were negative, 17.5% positive.

Americans believe that while the U.S. necessarily shapes foreign policies to support our national interests, those same interests are not necessarily in opposition to the interests of other nations and cultures. To the contrary, Americans are convinced that the U.S. is a benevolent "superpower" that elevates values emphasizing freedom and prosperity as at the core of its own national interest. Thus, for Americans, "U.S. values" are in reality "world values" — exemplified by the United Nations' Universal Declaration of Human Rights or the 1975 Helsinki Accords — so deep down we assume that everyone should naturally support our policies.

Yet the world of Islam — by overwhelming majorities at this time — sees things differently. Muslims see American policies as inimical to their values, American rhetoric about freedom and democracy as hypocritical, and American actions as deeply threatening.

A similar series of questions showed even more favorable opinion ratios in favor of U.S. culture and its values — in 2002. Thus it seems that in two years the Jihadi message — that strongly attacks American values — is being accepted by more moderate and non-violent Muslims. This in turn implies that negative opinion of the U.S. has not yet bottomed-out, but is in fact continuing to move dynamically. But the movement is now qualitative rather and quantitative, meaning that regular Muslims are moving from "soft opposition" toward "hard opposition." In Saudi Arabia, a large majority believes that the U.S. seeks to "weaken" and "dominate" Islam itself — in other words, Americans have become the enemy. It is noteworthy that opinion is hardest over against America in precisely those places ruled by what Muslims call "apostates" and tyrants — the tyrants we support. This should give us pause. (p 54)




Newspapers articles about the Pentagon report



Los Angeles Times: Iraq War May Incite Terror, CIA Study Says

The US is losing "the war of ideas" in the Islamic world, a Pentagon advisory panel has warned.

A report by the Defence Science Board says official US talk of bringing democracy to Muslim nations is seen as "self-serving hypocrisy".

It says if the US wants Muslims to move towards its understanding of tolerance, it must reassure them this does not mean submitting to "the American way".

The report urges Washington to change its approach urgently.

In the eyes of Muslims, American occupation of Afghanistan and Iraq has not led to democracy there, but only more chaos and suffering The Defence Science Board's report

However, it says that improving public relations is not enough.

"Muslims do not hate our freedom, but rather they hate our policies," the report says.

"The overwhelming majority voice their objections to what they see as one-sided support in favour of Israel and against Palestinian rights, and the long-standing, even increasing, support for what Muslims collectively see as tyrannies, most notably Egypt, Saudi Arabia, Jordan, Pakistan and the Gulf states.

"Thus, when American public diplomacy talks about bringing democracy to Islamic societies, this is seen as no more than self-serving hypocrisy," the report says.

It adds that the US-led wars in Afghanistan and Iraq has actually raised the stature of radical enemies of America.

"US actions appear... to be motivated by ulterior motives, and deliberately controlled in order to best serve American national interests at the expense of truly Muslim self-determination," the report says.

'Information campaign'

It describes US public diplomacy as being in crisis and urges the creation of a strategic communications apparatus within the White House.

"The information campaign - or as some still would have it, 'the war of ideas' or the struggle for 'hearts and minds' - is important to every war effort," the report says, referring to the US-led war on terror.

The BBC's Nick Childs at the Pentagon says the report may not be official policy, but it does highlight many concerns in official circles in Washington about how the US government can communicate its messages abroad.

The Defence Science Board is made of civilian experts appointed by the Pentagon, and offers the department advice on scientific, technical and other issues.

Story from BBC NEWS:
http://news.bbc.co.uk/go/pr/fr/-/2/hi/americas/4040543.stm

---
New York Times:

November 24, 2004
U.S. Fails to Explain Policies to Muslim World, Panel Says
By THOM SHANKER

http://www.nytimes.com/2004/11/24/politics/24info.html

WASHINGTON, Nov. 23 - A harshly critical report by a Pentagon advisory panel says the United States is failing in its efforts to explain the nation's diplomatic and military actions to the Muslim world, but it warns that no public relations plan or information operation can defend America from flawed policies.

The Defense Science Board report, which has not been released to the public, says the nation's institutions charged with "strategic communication" are broken, and calls for a comprehensive reorganization of government public affairs, public diplomacy and information efforts.

"America's negative image in world opinion and diminished ability to persuade are consequences of factors other than the failure to implement communications strategies," says the 102-page report, completed in September. "Interests collide. Leadership counts. Policies matter. Mistakes dismay our friends and provide enemies with unintentional assistance. Strategic communication is not the problem, but it is a problem."

The study does not constitute official policy, but it is described by the Pentagon's civilian and military leadership as capturing the essential themes of a debate that is now roiling not just the Defense Department but the entire United States government. The debate centers on how far the United States can and should go in managing, even manipulating, information to deter enemies and persuade allies or neutral nations.

There is little disagreement about the importance and utility of battlefield deception to help assure the success of a military operation and protect American or allied soldiers. But there is great concern among public affairs officials in the military at proposals for regional or even global information operations, especially if those efforts include falsehoods.

The rub is that in an environment of 24-hour news and the Internet, overseas information operations easily become known to the American people, and any specific government-sponsored information campaign not based on fact risks damaging the nation's overall credibility.

The Defense Science Board report, "Strategic Communication," proposes a permanent "strategic communication structure" within the White House National Security Council and urges elevated roles and responsibilities for a designated senior officer within other government organizations, including the State Department and the Pentagon.

The report compares the national security challenge of the post-Sept. 11 world to the decades-long struggle against Soviet Communism. But the study then argues that the government's cold-war-era communications institutions have not understood that the Islamic world - and extremists operating in the Islamic world - present different challenges. The report scolds the government for casting the new threat of Islamic extremism in a way that offends a large portion of those living in the Muslim world.

"In stark contrast to the cold war, the United States today is not seeking to contain a threatening state empire, but rather seeking to convert a broad movement within Islamic civilization to accept the value structure of Western Modernity - an agenda hidden within the official rubric of a 'War on Terrorism,' " the report states.

"Today we reflexively compare Muslim 'masses' to those oppressed under Soviet rule," the report adds. "This is a strategic mistake. There is no yearning-to-be-liberated-by-the-U.S. groundswell among Muslim societies - except to be liberated perhaps from what they see as apostate tyrannies that the U.S. so determinedly promotes and defends."

The report says that "Muslims do not 'hate our freedom,' but rather they hate our policies," adding that "when American public diplomacy talks about bringing democracy to Islamic societies, this is seen as no more than self-serving hypocrisy."

In the eyes of the Muslim world, the report adds, "American occupation of Afghanistan and Iraq has not led to democracy there, but only more chaos and suffering."

The report also says: "The critical problem in American public diplomacy directed toward the Muslim world is not one of 'dissemination of information' or even one of crafting and delivering the 'right' message. Rather it is a fundamental problem of credibility. Simply, there is none - the United States today is without a working channel of communication to the world of Muslims and of Islam."

Larry Di Rita, the Pentagon spokesman, said the report had elevated the debate within the Defense Department, but he said no formal decisions had been made about reorganizing how the Pentagon and military communicate.

"We're wrestling with this," Mr. Di Rita said. "But it doesn't change the underlying principle, at least with respect to the Department of Defense. Our job is to put out information to the public that is accurate, and to put it out as quickly as we can."

Also: The Christian Science Montior

Vast majority of foreign fighters are not former terrorists & became radicalized by the Iraq war.

The Independent (UK): We Must Address the Root Causes of this Terror

Los Angeles Times: Brutality That Boomerangs

Iraq elections

History News Network: The Iraq Election: First Impressions

Needlenose: The elections Bush didn't want


What America has done to the social net in Iraq

Harpers: Baghdad Year Zero Pillaging Iraq in pursuit of a neocon utopia

Ralph Nader: Assault on the Labor Movement in Iraq

A report to the UN human rights commission in Geneva has concluded that Iraqi children were actually better off under Saddam Hussein than they are now. The US-led military assault on Iraq has inexplicably doubled the number of children under five suffering from malnutrition. Under Saddam, about 4% of children under five were going hungry, whereas by the end of last year almost 8% were suffering.

The Nation: Iraq: The Human Toll

Iraq Sanctions, which killed 500,000 Iraqi's mostly children

Harpers: Cool War

Oil for Nothing: US Holds On Humanitarian Supplies Iraq: 1997-2001

See also: Iraq sanctions and the 500,000 dead, is this statistic all a fraud?

If this is a war on terror, then who are the terrorists and who are the terrorized?

[A]nti-American feeling, already rife in the Muslim world, is rising yet again in the wake of a recent report from Johns Hopkins University's Bloomberg School of Public Health in Baltimore, Maryland. It concluded that some 100,000 Iraqi civilians had died between March 2003 (when the Bush administration with its British allies invaded Iraq) and September 2004; that the largest number of these deaths were caused by the unleashed air power of the invading and then occupying armies; and that women and children had suffered most.

In other words, the invaders may have managed to kill up to a third as many Iraqis in a year-and-a-half as President Saddam Hussein did in his 24-year dictatorial rule. This comparison led the Riyadh-based, pro-government Saudi Gazette to ask rhetorically, "If this is a war on terror, then who are the terrorists and who are the terrorized?"

--From: No Carrots, All Stick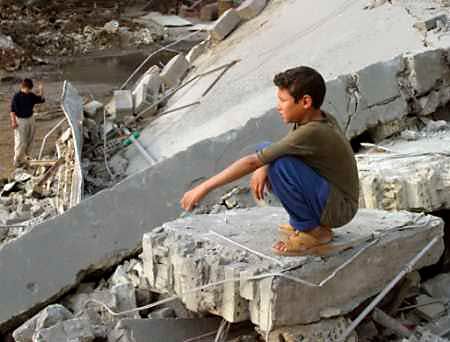 From the Chicago Sun Times: How Many More Iraqis Must Die for Our Revenge?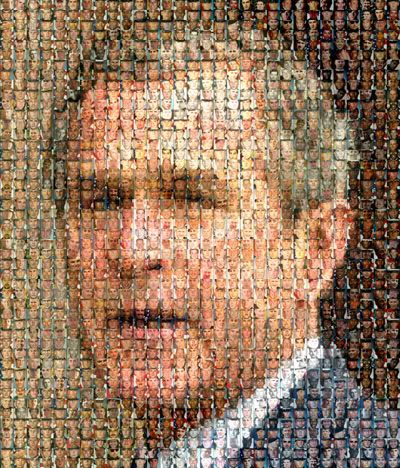 The Iraqi war : Counting the casualties From The Economist

http://economist.com/printedition/displayStory.cfm?Story_ID=3352814

Nov 4th 2004
The Economist

A statistically based study claims that many more Iraqis have died in the conflict than previous estimates indicated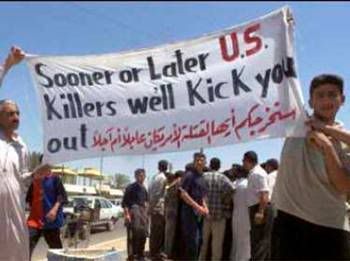 THE American armed forces have long stated that they do not keep track of how many people have been killed in the current conflict in Iraq and, furthermore, that determining such a number is impossible. Not everybody agrees. Adding up the number of civilians reported killed in confirmed press accounts yields a figure of around 15,000. But even that is likely to be an underestimate, for not every death gets reported. The question is, how much of an underestimate?

A study published on October 29th in the Lancet, a British medical journal, suggests the death toll is quite a lot higher than the newspaper reports suggest. The centre of its estimated range of death tolls—the most probable number according to the data collected and the statistics used—is almost 100,000. And even though the limits of that range are very wide, from 8,000 to 194,000, the study concludes with 90% certainty that more than 40,000 Iraqis have died.

Numbers, numbers, numbers

This is an extraordinary claim, and so requires extraordinary evidence. Is the methodology used by Les Roberts of the Johns Hopkins University School of Public Health, in Baltimore, and his colleagues, sound enough for reliable conclusions to be drawn from it?

The bedrock on which the study is founded is the same as that on which opinion polls are built: random sampling. Selecting even a small number of individuals randomly from a large population allows you to say things about the whole population. Think of a jar containing a million marbles, half of them red and half blue. Choose even 100 of these marbles at random and it is very, very unlikely that all of them would be red. In fact, the results would be very close to 50 of each colour.

The best sort of random sampling is one that picks individuals out directly. This is not possible in Iraq because no reliable census data exist. For this reason, Dr Roberts used a technique called clustering, which has been employed extensively in other situations where census data are lacking, such as studying infectious disease in poor countries.

Clustering works by picking out a number of neighbourhoods at random—33 in this case—and then surveying all the individuals in that neighbourhood. The neighbourhoods were picked by choosing towns in Iraq at random (the chance that a town would be picked was proportional to its population) and then, in a given town, using GPS—the global positioning system—to select a neighbourhood at random within the town. Starting from the GPS-selected grid reference, the researchers then visited the nearest 30 households.

In each household, the interviewers (all Iraqis fluent in English as well as Arabic) asked about births and deaths that had occurred since January 1st 2002 among people who had lived in the house for more than two months. They also recorded the sexes and ages of people now living in the house. If a death was reported, they recorded the date, cause and circumstances. Their deductions about the number of deaths caused by the war were then made by comparing the aggregate death rates before and after March 18th 2003.

They interviewed a total of 7,868 people in 988 households. But the relevant sample size for many purposes—for instance, measuring the uncertainty of the analysis—is 33, the number of clusters. That is because the data from individuals within a given cluster are highly correlated. Statistically, 33 is a relatively small sample (though it is the best that could be obtained by a small number of investigators in a country at war). That is the reason for the large range around the central value of 98,000, and is one reason why that figure might be wrong. (Though if this is the case, the true value is as likely to be larger than 98,000 as it is to be smaller.) It does not, however, mean, as some commentators have argued in response to this study, that figures of 8,000 or 194,000 are as likely as one of 98,000. Quite the contrary. The farther one goes from 98,000, the less likely the figure is.

The second reason the figure might be wrong is if there are mistakes in the analysis, and the whole exercise is thus unreliable. Nan Laird, a professor of biostatistics at the Harvard School of Public Health, who was not involved with the study, says that she believes both the analysis and the data-gathering techniques used by Dr Roberts to be sound. She points out the possibility of "recall bias"—people may have reported more deaths more recently because they did not recall earlier ones. However, because most people do not forget about the death of a family member, she thinks that this effect, if present, would be small. Arthur Dempster, also a professor of statistics at Harvard, though in a different department from Dr Laird, agrees that the methodology in both design and analysis is at the standard professional level. However, he raises the concern that because violence can be very localised, a sample of 33 clusters really might be too small to be representative.

This concern is highlighted by the case of one cluster which, as the luck of the draw had it, ended up being in the war-torn city of Fallujah. This cluster had many more deaths, and many more violent deaths, than any of the others. For this reason, the researchers omitted it from their analysis—the estimate of 98,000 was made without including the Fallujah data. If it had been included, that estimate would have been significantly higher.

The Fallujah data-point highlights how the variable distribution of deaths in a war can make it difficult to make estimates. But Scott Zeger, the head of the department of biostatistics at Johns Hopkins, who performed the statistical analysis in the study, points out that clustered sampling is the rule rather than the exception in public-health studies, and that the patterns of deaths caused by epidemics are also very variable by location.

The study can be both lauded and criticised for the fact that it takes into account a general rise in deaths, and not just that directly caused by violence. Of the increase in deaths (omitting Fallujah) reported by the study, roughly 60% is due directly to violence, while the rest is due to a slight increase in accidents, disease and infant mortality. However, these numbers should be taken with a grain of salt because the more detailed the data—on causes of death, for instance, rather than death as a whole—the less statistical significance can be ascribed to them.

So the discrepancy between the Lancet estimate and the aggregated press reports is not as large as it seems at first. The Lancet figure implies that 60,000 people have been killed by violence, including insurgents, while the aggregated press reports give a figure of 15,000, counting only civilians. Nonetheless, Dr Roberts points out that press reports are a "passive-surveillance system". Reporters do not actively go out to many random areas and see if anyone has been killed in a violent attack, but wait for reports to come in. And, Dr Roberts says, passive-surveillance systems tend to undercount mortality. For instance, when he was head of health policy for the International Rescue Committee in the Congo, in 2001, he found that only 7% of meningitis deaths in an outbreak were recorded by the IRC's passive system.

The study is not perfect. But then it does not claim to be. The way forward is to duplicate the Lancet study independently, and at a larger scale. Josef Stalin once claimed that a single death is a tragedy, but a million deaths a mere statistic. Such cynicism should not be allowed to prevail, especially in a conflict in which many more lives are at stake. Iraq seems to be a case where more statistics are sorely needed.


The perils of imprecision
Nov 4th 2004
The Economist

http://economist.com/printedition/displayStory.cfm?Story_ID=3353342

Whatever the correct figure, the civilian casualty count is far too high—and rising

SOME 100,000 souls—perhaps even more—may have perished in Iraq as a result of the American-led invasion in March last year. So, at any rate, says a respected British medical journal, the Lancet. If only half that figure is the true one, it is shocking. For sure, it is impossible to cite a maximum figure that would still justify the cost in lives that was bound to be paid by the innocent for ridding the world of a mass-murderer thought by Human Rights Watch's most careful reckoning to have killed at least 280,000 Iraqis at home, not to mention at least 1m who died in wars he started abroad.

But whatever the precise death-count since Saddam Hussein's fall and however lethal his own regime, several bitter facts cannot be denied: the rate of killing in Iraq has been far greater than those (including The Economist) who advocated war had expected. Moreover, as American and Iraqi forces steel themselves for another heavy assault on insurgents in Fallujah and maybe other rebel towns in the Sunni triangle, the politicians in charge—including a re-elected George Bush—should pause before raining down another torrent of bombs that are sure to kill many civilians as well as fighters.

The Lancet's report is bound to be open to dispute (see article). It extrapolates heroically from a small number of samples from across the country: the actual number of violent deaths it analyses since the start of the American invasion is just 73. The method for estimating "excess deaths" from infant mortality as a result of the invasion and the ensuing insurgency is subject to imponderables. Plainly, amidst such chaos and intimidation, no one knows for certain how many have died.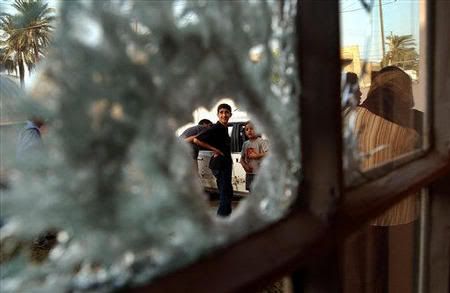 Still, even the lower figures cited by other monitors are disquieting. An anti-war but fastidious website called http://iraqbodycount.net puts the latest toll for civilians at more than 14,000 (at the lower end of its range), including more than 7,000 deaths during the invasion. And even senior American soldiers admit that the rate of insurgent attacks has risen—some say by a quarter even since the start of Ramadan, the Muslim month of fasting, three weeks ago. That means about 80 attacks a day on coalition and Iraqi troops and police. Everyone agrees that the civilian death-count is up too.
....
[P]ast tactics, especially those applied by the Americans from the sky, have too often been unnecessarily heavy-handed—and counter-productive. Moreover, the Pentagon is quite wrong to refuse to estimate Iraqi casualties, albeit that the margin of error is bound to be high. Reports such as the Lancet's should be taken seriously—and bolster the case for selectivity and restraint, even against the bloodiest of foes.

Government Support for our Troops


Press & Sun-Bulletin (Birmingham, NY): Gulf War pilots who were held captive sued Iraq and won The Bush administration sought to have the judge's ruling reversed and the case against Iraq dismissed.


Several years ago, there was a movie called The Mouse That Roared, starring Peter Sellers. It was about the leaders of a tiny, impoverished European country who decided that their best hope of avoiding fiscal disaster was to declare war on the United States, get invaded, surrender as swiftly as possible and then qualify for rebuilding aid.


CNN: Democrats slam budget cuts for veterans' services

Ted Rall: "Private ______ died for his country's geopolitical interests." Doesn't quite have the same ring?
They Fight and Die, But Not For Their Country


Resistance to the War in Iraq

The St. Patrick's Four and Resistance to the War in Iraq


American Occupation Targeting Doctors, Clerics, Journalists


Journalist from Democracy Now: There Was No Checkpoint, There Was No Self-Defense

Italian Journalist Giuliana Sgrena said:

1) There wasn't a checkpoint at all, It was simply a tank parked on the side of the road that opened fire on them.

2) Sgrena also says that the US soldiers fired at them from behind. The US military in Iraq has blocked the Italian government from inspecting the Italians' vehicle, even though the car is the property of the Italian government which bought it from the rental agency after this incident.

3) Giuliana wasn't on that road at all that the US claims she was on. They were on a secured road that can only be accessed through the heavily-fortified Green Zone and is reserved exclusively for top foreign embassy and US officials. 'It's a completely separate road, actually a Saddam-era road, it would seem, that allowed his vehicles to pass directly from the airport to his palace,' says Klein. 'And now that is the secured route between the U.S. military base at the airport and the U.S. controlled Green Zone and the U.S. embassy.'

'It was a VIP road, for embassy people, not for normal people,' Sgrena told Klein. 'I was only able to be on that road because I was with people from the Italian embassy.'

This case sheds important light on the culture of impunity surrounding the US occupation of Iraq. If this is how Washington treats Italy, one of its closest allies in the so-called war on terror, when US soldiers kill the country¹s second-highest ranking intelligence official, imagine the struggle Iraqis face as they die in the tens of thousands. They don¹t have a powerful figure like Sylvio Berlusconi to advocate for them.

The Guardian: In Iraq, US forces...are no longer bothering to conceal attacks on civilian targets and are openly eliminating anyone - doctors, clerics, journalists - who dares to count the bodies.

My comments:
Please note, nothing has been done with the noted tank firing on the hotel in Baghdad, killing two journalists. The military promised it would investigate, and just last month the US found that "no fault or negligence" could be attributed to the US army for an action that killed two journalists." (Also see articles below on this subject)

On a related note, although low-level grunts have been prosecuted for crimes in Iraq prisons, not a single CIA agent who participated in the torture has been prosecuted. (See my web blog entry for more on this subject)

This is typical. The American military has a shameful record of first covering up and then never prosecuting war criminals. Those it does prosecute usually get waved or reduced sentences. (See my web blog entry for more on this subject)

Articles on the hotel killings by an American tank

Reporters Without Borders "extremely disappointed" at US troops being cleared of all blame for attack on Palestine Hotel that killed two journalists

Reporters without borders: latest news on Iraq freedom of press and journalist suppression

International Federation of Journalists report on the Middle East

The Independent newspaper: 'US Lied About Deaths of Journalists in the Palestine Hotel'

The Scotsman newspaper: "We find no sense of outrage, no sense of concern in these (Iraq) cases," White said. "The response from American authorities has not been positive. There is a culture of disregard for mistakes (by the American military) that have been made."

Inter Press Service: U.S. Government Accused of War Crimes Against Journalists

Los Angeles Times: Innocent civilians are increasingly being killed by U.S. troops

If America were Iraq, What would it be Like?
(link)

President Bush said Tuesday that the Iraqis are refuting the pessimists and implied that things are improving in that country.

What would America look like if it were in Iraq's current situation? The population of the US is over 11 times that of Iraq, so a lot of statistics would have to be multiplied by that number.

US and Iraq Oil Sanctions

Nashua Telegraph / New Hampshire: US Had Hand in Violating Iraq Oil Sanctions

Vietnam and Iraq

Toronto Star:
Bush's Liberty Song Echoes Vietnam Tune

Robert Freeman:
Is Iraq Another Vietnam? Actually, It May Become Worse

Editor of Mediachannel.org: The Unreported Vietnam-Iraq Parallel

Inter Press Service: Iraq War Costs Now Exceed Vietnam's

NPR: The World (February 2nd, 2005):
Listen now: Vietnam report


US efforts to build democracy, a campaign of violence meant to disrupt elections, an historic vote...all these elements describe what's going on in Iraq today. But they also describe what was going on in South Vietnam nearly 40 years ago.
Body Counts actually done



.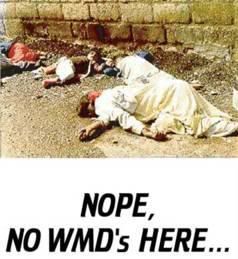 March 18, 2004:

"Jeffrey Gettleman of the New York Times revealed that, twice a week, Captain Jonathan Tracy hands out "sympathy payments" to the relatives of Iraqi civilians killed or injured by the U.S. military. No admission of U.S. guilt, but you get $1,000 for an injury and $2,500 for a death. Now you know what Iraqi life is worth, in official U.S. eyes. Captain Tracy, who is only 27, says he is "getting pretty burned out." That is understandable. It's a hellish job.

To make it worse, Tracy has to worry about cheaters. How does he know that the Iraqis who come asking for payments really deserve them? He "checks each claim a civilian files against a database of military incident reports," Gettlemen reported. "We do keep records of innocent civilians who are killed accidentally by coalition force soldiers," said Brig. Gen. Mark Hertling, assistant commander for the First Armored Division, which patrols Baghdad. "And, in fact, in every one of those innocent death situations, we conduct internal investigations to determine what happened."

But earlier in the very same news story, Gettlemen wrote: "Military officials say they do not have precise figures or even estimates of the number of noncombatant Iraqis killed and wounded by American-led forces in Iraq. 'We don't keep a list,' said a Pentagon spokeswoman, Lt. Cmdr. Jane Campbell. 'It's just not policy.'"

We used to assume that what Commander Campbell said was true. We rely on websites like www.iraqbodycount.net because we thought that our government was killing and not bothering to count the victims. Now we just ain't sure, because our nation's newspaper of record says, in the very same story, that our government does and does not keep a list.